New Garage Shelving Model BS2060
**EXCLUSIVE ONLY TO SUPER RACK**
Being industry experts with over 30+ years experience in the shelving products, we have listened to the feedback from our customers and have produced the brand new BS2060 Black Garage Shelving 1200KG Super Rack Series.
We have taken the extra step of redesigning the upright bracket, together with an enhancement with extra-large bracket plate to ensure extreme stability. We have also taken the extra step of refining upright holes ensuring the customer smooth clip in during assembling this rack. Quite simply, the new BS2060 design is more user friendly, and with assembly of the shelf to be easier than ever.
The BS2060 is also more aesthetically pleasing and comes in stylish black colour which would be suitable to all your business or home storage needs.
This model comes with the standard 4 shelves per set and there is the option of purchasing additional shelves if the customer is wanting more than the standard 4 which comes in a set.
Currently, we have a 2m high with 0.6m deep uprights available, you can choose between 1.5m or 2m long to fulfill your storage needs. This system can hold up to 1200KG (evenly distributed). With the flexibility to add extra uprights and levels, the customer can expand the shelving to fit into any situation of their storage needs. The customer can either work it out for themselves as to how they would like to customize this shelving system or alternatively, one of our friendly and extremely knowledgeable sales team would be more than happy to go through all the customisation options with the customer.
We are extremely proud of our new BS2060 Black Garage Shelving 1200KG Super Rack Series and believe this is the Super Rack our customers deserve!
Enhanced Large Bracket Extra Sturdy
Refined Holes Easier To Clip in
Upright
Beam ( 1 pair / level )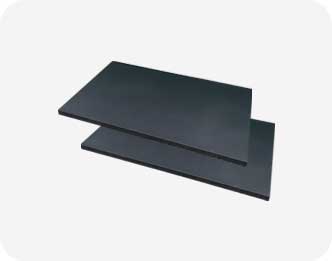 Panel ( 2pc / Level )
We are so confident that our customers will find the BS2060 the most superior model of its type on the market, we welcome you to compare our model with any other shelving of its type on the market.

Make sure you are aware that you are not falling into the trap of purchasing an inferior and/or imitation product.