Pallet racking shelving is a stock handling storage system designed to store goods on pallets. There are many different types of pallet racking system and all of them allow for the storage of palletized materials in horizontal rows with multiple levels.
In Super Rack, we supply most of the types and configuration that are often used in warehouse:
Selective Pallet Racking system is the most common system in use. They are typically come in "roll formed" or "structural" configuration, and usually formed by uprights and pair of beams to create shelves for storing pallets. This type of system usually requires lower investment and has great accessibility, but does not allow as high density as other types of system due to aisles between rows of rack.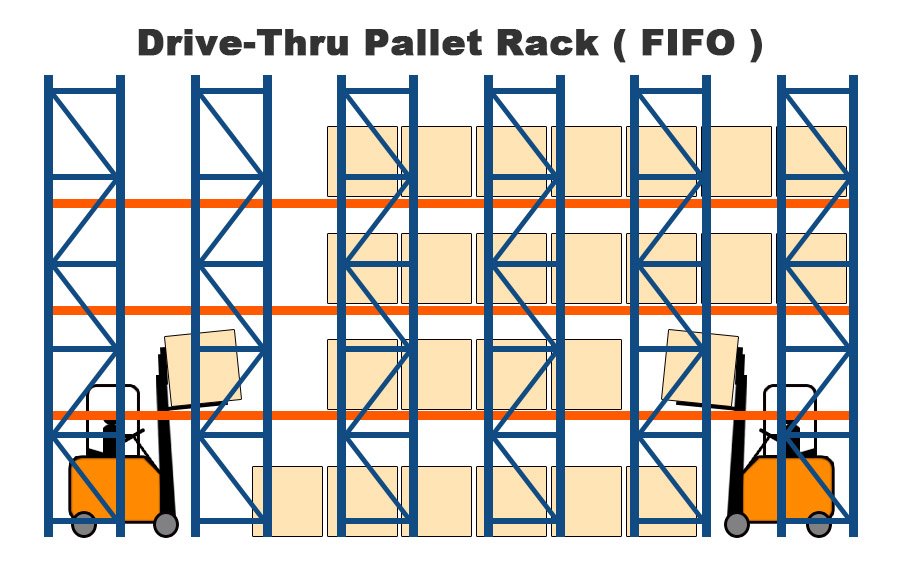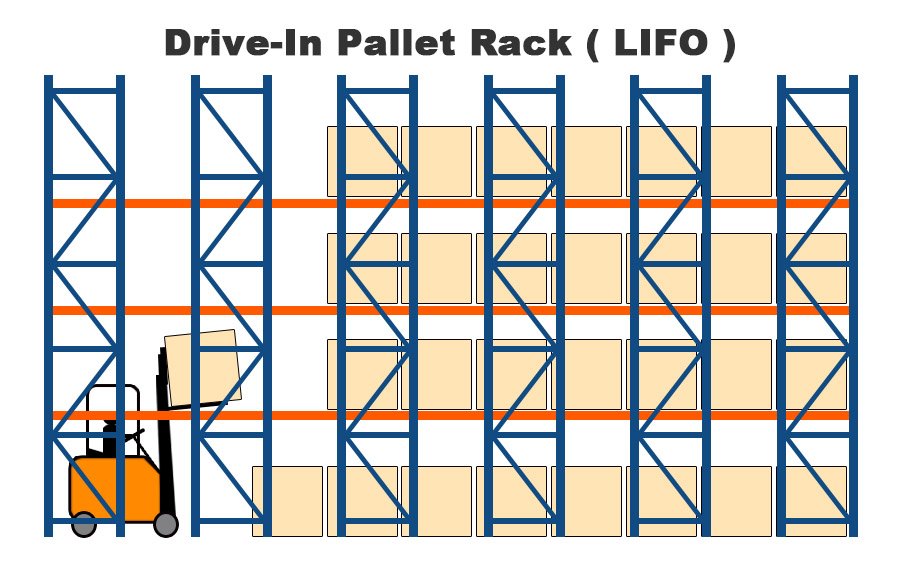 Drive-In & Drive-Through Pallet Racking
Drive-In and Drive-Through Pallet Rack allow forklift directly drive into the storage bay. The pallets usually store on side rails rather than cross beams. The main difference between Drive-in and Drive-Through is rather it has only one entry or can be entered from both sides. Drive-in typically use for LIFO while Drive-Through use for FIFO. This type of system allows high-density storage and usually lower cost than a pallet flow rack system.
Push Back Pallet Rack System is very similar to Pallet Flow Rack System, except the pallets are loaded and unloaded from the same end. This type of systems allows high-density storage and is designed for LIFO storage system.
Pallet Flow Pallet Racking
Pallet Flow Rack System is often used for storing a large quantity of pallets of same products. It is formed by uprights and beams to support gravity rollers within the racks and usually set on slightly slop from load end to unload end. Speed controller can also be used to ensure the pallets travel smoothly and in a safe manner. This type of system allows very high-density storage and is designed for FIFO storage system, but also requires higher investment.
Currently, we have customer service centres and warehouses in Brisbane and Melbourne.
In Super Rack, we design and supply different type of storage systems to fit your needs. If you have a plan, our professional team can work with you to satisfy all your requirements. Otherwise, you can show us your floor plan, and we would do the rest for you.
Storage Solutions Made Easier Than Ever Before
To increase your productivity and/or profitability, contact us now – speak to any of our many industry professionals who will guide you to the very best storage solutions for your needs.
Safety and durability are always our first concern, therefore all our products have been tested in Australia to be compliant with and exceed the requirement of AS4084-2012. Please follow this (guide) for pallet racking operation and maintenance, this includes a person in control of racking, warehouse and maintenance, training organisations, forklift operators, store persons and health and safety representatives.
Super Rack as a large pallet racking Brisbane and Melbourne supplier, we offer brand new pallet racks at the best price. We strive to find storage solutions for each individual customer; For example: We are happy to sell our uprights and beams individually to meet our customers' needs and budget. To ensure you are always updated with our latest sale items, subscribe to our mailing list so you never miss out on our fantastic deals.
It is our policy to continuously strive for the most cost effective means of freight Australia wide. We have long standing accounts with most of Australia's largest freight companies, and delivery charges are always constantly reviewed to make certain we always deliver the most competitive delivery charges..
Best Customer Service With Trusted Professionals
Currently, we have customer service centres and warehouses in Brisbane and Melbourne.
If you have a plan in mind to enhance your productivity and profitability, Super Rack invites you to gain all the knowledge and expertise available from our professional team – Contact Us.
Alternatively, you can simply let us know what are the dimensions of your area, how you envision your stock/good are to be stored and our experts will give you professional advice on which system you should choose and let us complete the rest for you – at the most competitive prices.
At Super Rack, we pride ourselves on being industry professionals on design, supply and the various types of system to meet all our customers needs.